Chabot College Student Accreditation Survey: Fall 2001
Highlights
Increases in Student Satisfaction with Chabot
Dramatic increases in student satisfaction with Chabot were reported in this year's student survey. The survey, which is conducted every other year and was part of the Accreditation Self-Study this year, showed that compared to two years ago, students are more satisfied with their overall experience with Chabot, with the campus climate and how they are treated, with transfer preparation, and with staff and facilities. The Student Accreditation Survey was conducted in October 2001 in a representative sample of sixty-one course sections. Surveys were completed by 1,154 students (60% full-time and 40% part-time).
Highest Increases of Overall Satisfaction
The largest increases in satisfaction were in following areas:
Percentage of all students
Satisfied or very satisfied
Fall 1999
Fall 2001
Overall experience with:
Chabot College
80%
85%
Admissions and Records staff
64%
70%
Other college staff
57%
69%
Preparation for transfer to 4-yr college
47%
60%
Physical condition of:
Technology laboratories
35%
49%
Computer labs in library and departments
64%
73%
Availability/working order of lab equipment
55%
61%
Art/music/theatre/drama facilities
42%
55%
Library
64%
79%
Cafeteria
66%
72%
NOTE: All percentages have a margin of error of 3 to 5 percentage points.
Overall Satisfaction with Chabot
Improvements in Campus Climate
Major aspects of campus climate also increased.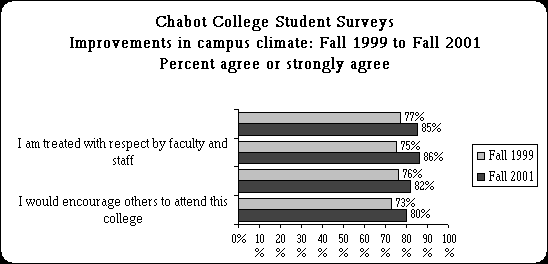 Last Updated on 12/4/01
By research