Fresh Success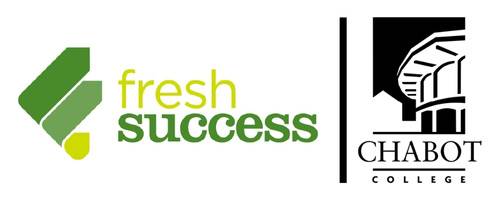 Fresh Success program supports students to achieve their certificate or degree by providing funds to cover educational expenses while receiving supplemental food benefits.
Become a Fresh Success Student
Benefits and Services
Up to $100/month for gas or bus/bart Clipper Card
Up to $500 reimbursement for required supplies, uniform and tools
Textbook voucher
parking permit
Academic and career counseling
Student support workshops
*Fall 2022
Eligibility Requirements
Enrolled in an approved career and education, ESL or non-credit course (list of approved majors)
Enrolled in ESL, non-credit or approved Career and Education program such as:
ARTS, MEDIA, and ENTERTAINMENT:
Architecture:

Architecture Technology

Graphic Design

Interior Design:

Kitchen and Bath Design

Music Technology & Production:

Audio Recording, Music Production

Journalism

Photography:

Digital Photography

Radio and Television Broadcasting

Digital Arts Media:

Game Audio, Music Industry, Entrepreneur
BUSINESS and FINANCE:
Accounting

Accounting Technician

Administrative Assistant

Administrative Assistant Entrepreneur

Business General:

Business Administration

Business, Management:

Management, Retail Management, Small Business Management, Health Care Management, Project Management

Business, Marketing:

Marketing

Entrepreneurship:

Information Technology Support, Entrepreneur, Consumer Technology Entrepreneur, Music Industry Entrepreneur

Software Specialist

Real Estate:

Real Estate Entrepreneur

Bookkeeping:

Human Resources Assistant, Retailing
EDUCATION, CHILD DEVELOPMENT, and FAMILY SERVICES:
Early Childhood Development

Early Childhood Intervention

Early Childhood Education

Early Childhood Development (Associate Teacher)

Early Childhood Development (Basic Teacher)

Early Childhood Intervention Assistant

Elementary Education

Human Services:

Case Management for Human Services
TRANSPORTATION:
Automotive Technology: Automotive Technology (BMW Emphasis), Automotive Technology Entrepreneur

Automotive Chassis Technology

Automotive Drivetrain Technology

Automotive Engine Performance Technology

Automotive Maintenance Technology

Automotive Service Consulting

BMW Manufacture Training

Hybrid and Alternative Fuel Vehicles
HEALTH SCIENCE and MEDICAL TECHNOLOGY:
Biology (Allied Health Emphasis)

Dental Hygiene

Human Services

Medical Assisting

Nursing Program, LVN

Kinesiology

Fitness Instructor

Sports Injury Care

Case Management for Human Services
MANUFACTURING and PRODUCT DEVELOPMENT:
Advanced Manufacturing:

Technology

Electronic Systems:

Technology, Consumer Technology

Engineering

Industrial Technology:

Industrial Electronic, Technology

Information Technology

Machine Tool Technology:

Machinist

Numerical Control:

Numerical Control Programmer (Machinist)

Tool Maker

Welding Technology:

Inspection and Pipe Welding, Welding
PUBLIC SERVICE:
Administration of Justice

Fire Technology

Fire prevention Inspector

Emergency Medical Services (EMS)
Contact Fresh Success to see if your program/major is eligible.
Receiving CalFresh benefits in Alameda County
If you are NOT currently receiving CalFresh benefits with Alameda County, but are eligible based on the program and income guidelines complete the on-line CalFresh application.
Income Guideline for CalFresh benefits
| Household Size | Maximum Gross Income | Maximum Benefit Amount |
| --- | --- | --- |
| 1 | $2,148 | $250 |
| 2 | $2,904 | $459 |
| 3 | $3,660 | $658 |
| 4 | $4,418 | $835 |
| 5 | $5,174 | $992 |
| 6 | $5,930 | $1,190 |
| 7 | $6,688 | $1,316 |
| 8 | $7,444 | $1,504 |
| Each Additional Member | +$758 | +$188 |
CalFresh benefit table effective 10/1/2021 - 9/30/2022
If you are not currently receiving CalFresh benefits with Alameda County, but are eligible based on the program and income guidelines complete the on-line CalFresh application.
Sign Up for Fresh Success Here
Announcements
---
Fresh Success is funded in part by the United States Department of Agriculture.
USDA is an equal opportunity provider, employer, and lender.
Front Desk
510-723-6985
cc-freshsuccess@chabotcollege.edu
Building 700, Room 767J