Hayward Promise Neighborhood
Chabot College is one of various partners in the Hayward Promise Neighborhoods (HPN) working to revitalize the South Hayward neighborhood. The Chabot HPN Program works collaboratively to provide students and families in South Hayward comprehensive support throughout the "cradle to college to career" pipeline.
Learn more about the Hayward Promise Neighborhood partnership.


Eligibility
Elementary, middle, or high school students and their families who live in the South Hayward Neighborhood OR attend one of the following schools:
We are also open to undocumented students.
Learn more about Dreamers support and resources for undocumented students.
---
Services Provided

Bridge to College
Chabot College classes for middle/high school students. Classes count towards both middle/high school and college credit. Offered onsite at César Chávez Middle School and Tennyson High School. Please contact YEP for course offerings and enrollment information.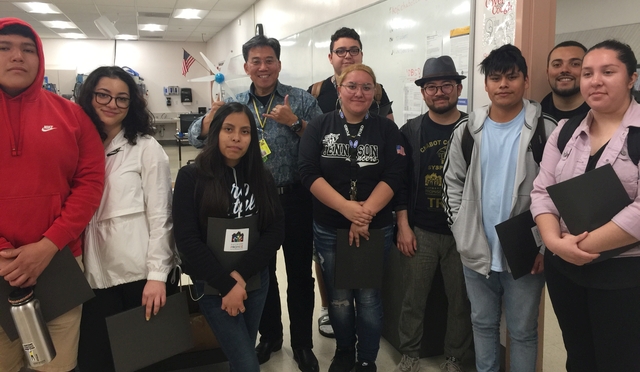 Pipeline to College, Middle and High School
Prepares students for college by building confidence and esteem and increasing academic skills through mentoring, tutoring, advising, workshops, career exploration, family workshops and field trips. Offered onsite at César Chávez Middle School and Tennyson High School.
Summer Youth Programs
A free summer program for rising middle and high schoolers and middle and high schoolers offering hands-on STEAM while building a college-going identity.


Teacher/Educator Pathway
Chabot is working to provide clearer pathways for students interested in careers in education, including pathways from high school; the development of additional curriculum; clearer information and guides for students; supporting the CATE club (Chabot Association for Teacher Education); employment experience and opportunities like tutoring; and agreements with 4-year institutions to which our students may transfer.
Early Childhood Education
Chabot is offering additional outreach, enrollment efforts, support and employment assistance to current and potential Early Childhood Department (ECD) students who are from the South Hayward Neighborhood and/or who graduated from Tennyson High School. We also offer Spanish-speaking ECD cohorts.
---
Meet Our Team
Robin Galas
HPN Grant Coordinator
rgalas@chabotcollege.edu
510-723-7570
Building 700 2nd fl, Room 767B
Alan David
Outreach Specialist (Bridge to College)
adavid@chabotcollege.edu
510-723-7614
Building 100, CC-CPT Outreach
Terra Lee
Sr. Instructional Assistant - Career Navigator Early Childhood Development
tlee@chabotcollege.edu
510-723-7629
Building 400, Room 402U, 1st fl
Contact Us
Building 700, Room 767B - 2nd fl
Meet Our Team