Puente
Join the Puente Program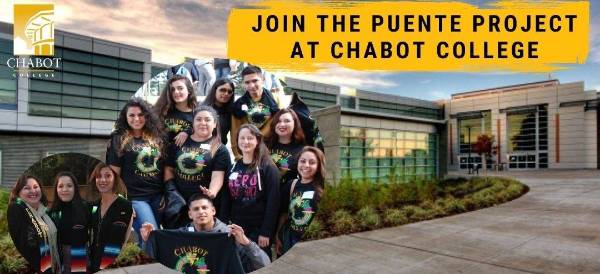 Puente is a national award-winning program that has helped tens of thousands of students transfer to four-year colleges and universities.

This is a two semester program that blends writing, critical thinking, counseling and mentoring with a curriculum that focuses on Mexican American and Latinx history, authors and issues.
Puente is open to all students.
Overview
Our mission is to increase the number of educationally underserved students who:
Enroll in four-year colleges and universities
Earn college degrees
Return to the community as mentors and leaders of future generations
It is designed for students who want to transfer to four-year colleges and universities. The program is open to all students who meet the qualifications for enrollment. Students will be required to participate in all course and program activities.
Eligibility
Chabot students must:
Be interested in transferring to and graduating from a 4 year university or college
Have GPA of 2.0 or higher. Students who do not meet this criterion should submit a letter of recommendation from an instructor or counselor with the application.
Have willingness to learn about the Mexican American/Latino experience
Have willingness to participate in career and college field trips, service learning, and mentoring events that take place outside of regular class time
Be eligible to enroll in PSCN classes, English 1 (fall semester) or English 4 or 7 (spring semester)
FAQ
1. Can students register for Puente classes or does the counselor register them for classes?

The student needs to submit a Puente Intake form online and once received by the Puente office, an appointment will be scheduled. Student must be coded to be eligible to register for Puente classes. Once coded, the student will register for classes in class-web.
2. Are Puente classes offered in the evening?
No. Puente courses are offered Monday-Thursday mornings.
3. Are Puente classes offered online?
Yes. All Puente classes are offered online via CANVAS while the campus is closed due to COVID-19.
4. Can any student be in Puente?
Yes, but it depends on their level of English.
As long as the student is eligible to take transfer-level English.
As long as the student has not completed English 1, they can join Puente in the fall.
If they have completed English 1 with a passing grade, we can offer them to take the Critical Thinking class, English 4A/7A with Puente in the spring. It depends on what part of the year the student is asking about Puente and if it will fit in their schedule.
If a student has completed all of their English courses, either at Chabot or another college/university, then they will not be able to participate in Puente.
5. Does Puente offer Math classes?
Not at this moment.
6. After I finish my Puente English classes, can I still meet with the Puente counselor?
Yes! The Puente counselor will continue to meet with you until you have achieved your academic goal.
7. Do I have to be in Puente the whole year?
Yes. Being part of Puente is committing to participation in a whole year experience.
---
Fall 2023
---
How to Apply
To join Puente,

For more information, to follow up with a Puente Intake Form or to schedule an appointment with a Puente Counselor, email jsanchez@chabotcollege.edu
Contact Us
Building 700, Room 767H - 2nd fl
510.723.7044
jsanchez@chabotcollege.edu
---
HOURS
In-Person
Monday to Thursday, 9am - 5pm
---
Meet Our Team