Major Exploration
Educational Goals, Majors, Jobs, Careers
If you are not crystal clear on your college major or career plans, you are not alone.
Many students enter college to explore options. After all, college is about learning and growth, including exploring academic and career pathways. It's not uncommon for students to enter with one goal, and change plans one or more times.
Decision-Making
Solid decisions are based on a combination of many things, including self-awareness, learning about options, and more.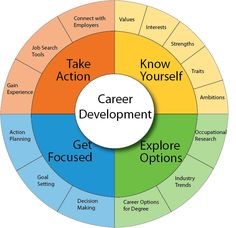 Career Development Model
Know Yourself: Values, Interests, Strengths, Traits, Ambitions
Explore Options: Career Options for Degree, Industry Trends, Occupational Research
Get Focused: Action Planning, Goal Setting, Decision Making
Take Action: Gain Experience, Job Search Tools, Connect with Employers
Know Yourself & Explore Options
Get Focused & Take Action