Nursing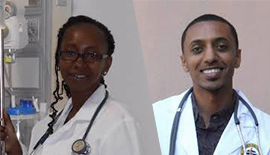 Equity Statement

The Chabot College nursing program acknowledges the structural and systemic racism embedded in our society, education, and healthcare. In response, we firmly commit to exposing and eradicating racism by reasserting diversity, equity, and inclusion as one of our nursing program's core values. We are committed to fostering a climate that is inclusive and welcoming of all students and faculty.
Nursing Program Applicant Update:
Dear Students,
The Chabot College nursing program remains fully committed to the education, training and preparation of future nurses in the community. Unfortunately, our nursing program is experiencing faculty vacancies that will prohibit some required courses to be offered in the fall semester of 2022. For this reason, the nursing program will not be admitting a class of new students in August.
A list of this year's qualified applicants will be generated, and students will be given an option of deferral for the next incoming class, which is anticipated in August 2023. Please notify Director Washington if you wish to be removed from the list.
We are not accepting new applications for Fall 2023. Information Meetings will not be held this in Fall 2022. Meetings will begin again in the Spring 2023 for Fall 2024.
Thank you,
The Chabot College Nursing Program
If you have questions, please refer to this FAQ document.
---
LVN-RN Program Fall 2023 Cancelled: Due to the pandemic, and the affect on our student nursing clinical experience, we have decided to not offer the LVN-RN Program for Fall 2023.
---
TEAS Exam: The TEAS 7 version of the Exam will be out in June of 2022. So for the next application timeframe, Chabot will accept the TEAS Version 6 or 7.
Nursing at Chabot College
The Nursing Program provides the necessary knowledge and skills on becoming a Registered Nurse (RN). Nursing continues to be a popular job and is in very high demand. If you're ready to take the next step of becoming one, our Nursing program can help you get there. Fall 2022 application is closed. Fall 2023 application through Class-Web will open on November 1, 2022 and will close on January 31, 2023. You must have a student Chabot Student ID to apply, attend mandatory information meeting and complete all pre-requisites by December 31, 2021 to apply for Fall 2023.
Why Chabot
Faculty with 20+ years of experience

Modern facilities and simulation labs preparing students with real life scenarios

Dedicated counselor for the nursing program

We work with diverse populations and communities in the clinical settings

50-75% of graduates transfer to a BSN program or the CSUEB bridge program

Test-taking preparation seminars

Affordable

Ranked #1 Program in California 2023 from for the 5th Annual Nursing School Program rankings by RegisteredNursing.org.
Exemplary NCLEX passing rate:


| Year of Graduating Class | Passing Rate |
| --- | --- |
| Class 2021 (31) | 100% |
| Class 2020 (22) | 100% |
| Class 2019 (29) | 100% |
| Class 2018 (32) | 100% |
| Class 2017 (32) | 100% |
| Class 2016 (30) | 100% |
We offer 2 programs
Registered Nursing
Acquire an AS Degree in Nursing and qualify to take the NCLEX-RN.


LVN to RN Bridge
Provides LVNs two options (30 unit and/or AS degree) to qualify on becoming a RN, pending available space. Average incoming LVN class size is 3-5 students annually.
Foreign Trained Registered Nurses
If you have been referred to take specialized classes by the BRN, unfortunately, Chabot Nursing can no longer accommodate this request.
Opportunities
Registered Nurses are projected to receive an average yearly wage from $68,199 to $122,284 in Alameda County as of April 2021. The outlook for RNs will continue to be positive.
Many of our graduates work at Bay Area health facilities in various positions and even return to Chabot's Nursing Program to assist current students. Our program offers a pathway for students to becoming Registered Nurses and to take advantage of these opportunities.
Building 2200, Room 2273 - 2nd fl
510.723.6896
RNProgram@chabotcollege.edu
HOURS
In person:
Available by appt. M-F
Online:
Hours are subject to change
---
Tami Washington
Director of Nursing Program
Meet Our Team
FUNDRAISING
Nursing Program is raising funds to help students cover the cost of clinical supplies, program material, graduation, and other educational needs. Make a tax-deductible contribution today and help support Chabot's nursing students!